AUTO MAINTENANCE
Often, vehicles become unreliable or require expensive repairs because they do not receive regular maintenance. Having regular preventative maintenance performed on your vehicle will keep it running newer for longer. If that's not enough to convince you, here are the top four reasons for preventative maintenance.

Safe Operation and Reliability
Driving a vehicle can be dangerous, especially if parts are at risk of malfunctioning. Preventative maintenance will make sure that the components of your vehicle are in their best condition and functioning properly. When you skip an oil change or forget to replace vital fluids, mechanical parts of your vehicle will wear out more quickly and require you to have them replaced sooner. Preventative maintenance helps you get the most life out of the mechanics of your vehicle, which means less or no breakdowns.
Serious vehicle trouble, like engine or transmission failure, can also be prevented when regular maintenance is performed. Refer to your owner's manual for the maintenance schedule recommended for your specific vehicle make and model, then follow it closely.

Improve Gas Mileage
Preventative maintenance helps to ensure that your vehicle gets the best gas mileage that it can. Should you fail to have the motor oil and engine air filters replaced on schedule, your gas mileage will be reduced and could cause unnecessary wear on the engine. It is usually recommended that vehicle's using conventional oil have it changed every 3,000 miles. If the vehicle uses synthetic oil it can go up to 6,000 miles. However, the exact mileage will depend on your exact vehicle, so you should refer to your owner's manual. Tire care and rotations are also important to gas mileage. Check the inflation of the tires monthly, and have them rotated and balanced ever 10,000-15,000 miles. Another part that affects gas mileage are the spark plugs. Standard copper spark plugs should be changed every 30,000 miles, and iridium plugs every 100,000.

Save Money
If you do not have regular preventative maintenance performed on your vehicle you risk having simple repairs turn into large, expensive problems. Even the simple act of neglecting oil changes could result in engine failure. Replacing the timing belt every 60,000 miles and the serpentine belt every 40,000 miles will also help prevent costly engine problems. Putting off, or skipping tire rotations could throw off your alignment, which could end up damaging the suspension and other components. Having the battery inspected and cleaned at each oil change will save you the cost and hassle of being stranded with a dead battery. The list of money-saving benefits of preventative maintenance goes on and on.
Regular maintenance will help guarantee that your vehicle is performing optimally. For further information on how preventative maintenance can benefit you, please contact us today. Southeast Auto Service & Repair is here to help you with your preventative maintenance needs. Check with your owner's manual for the mileage that preventative maintenance should be performed. Below is a chart showing the standard mileage for each preventative maintenance. If you have any questions or have mileage above 60,000, contact us.
We employ experienced trained technicians ready to service your car, truck or SUV. They have the knowledge, tools and training to help ensure your service is done correctly the first time. Southeast Auto Service & Repair offers:
Full-service maintenance and repair
Parts and labor warranties
Clean, comfortable waiting area
Wi-Fi
Shuttle service to and from your home within the Fort Stewart / Hinesville area.
Friendly and knowledgeable staff
WHEREVER YOU GO, THE TECHNET WARRANTY GOES WITH YOU
When you have service and repairs performed by Southeast Auto Service, an authorized TechNet Professional Automotive Service facility, you're covered by a nationwide limited repair warranty that extends across North America, for 24 months or 24,000 miles, whichever comes first.
PROGRAM COVERAGE
This Warranty covers the following types of repairs and services:
Air conditioning, heating and climate control systems
Brake system(s)
Electrical system(s)
Emission control system(s)
Engine cooling system(s)
Electronic engine management system and other on-board computer systems (engine, body, brake and suspension computers), cruise control systems.
Engine performance or drivability services and repair.
Exhaust system(s)
Fuel system(s)
Ignition system(s)
Other minor repairs
Starting and charging systems
Steering/suspension systems, wheel bearings, CV axles and joints, half-shafts and driveshaft's
Hybrid drive battery replacement(s), effective July 1, 2016.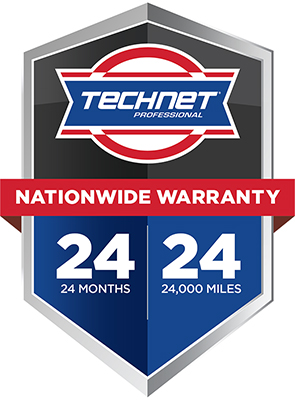 There are repairs that are excluded from the TechNet warranty. Specifically excluded are any repairs involving the removal of the engine, transmission or transaxle, or removal of any internally lubricated parts and other such repairs listed below:
Engine:

Any internal repairs or replacement of internal components or replacement of the engine assembly.

Transmission/Transaxles

:

Automatic

- any internal repair or component replacement,

Manual -

any internal repair or component replacement,

Clutch

- Clutch component or assembly repair or replacment.

Drive Axle/Differential Assembly

: Any repair or component replacement requiring removal of internally lubricated components or the replacement of the drive axle/differential assembly. Ring gear, pinion shaft and related gears. Associated bearing with previous and pinion seal.

Auto Body/Paint/Body Repair:

Any repair or materials related to auto body repair work and glass related repairs.
Commercial Use Vehicles with a load carrying capacity over 1 1/2 tons.

Tires & Batteries:

All except hybrid drive battery replacements
Used or Salvaged parts.

Preventative Maintenance Services (excluding belt and hose replacement)

: Oil changes, fluid changes and flushes, wiper blades and filters.
WHAT IS NOT COVERED BY THE TECHNET NATIONWIDE WARRANTY
You must pay for any non-warranty service you order to be performed at the same time as the warranty service. This warranty will not apply to your repaired vehicle if it has been damaged by abnormal use, misuse, neglect, accident, alteration or "tampering with" (by other than Southeast Auto Service & Repair employees). This warranty does not cover replacement or repairs due to normal wear and tear.
Prior to Warranty Repair, call (866) 588-0728
Note: Our employees and the owner do not have authority to modify the terms of this warranty nor to make any promises in addition to those contained in this warranty.